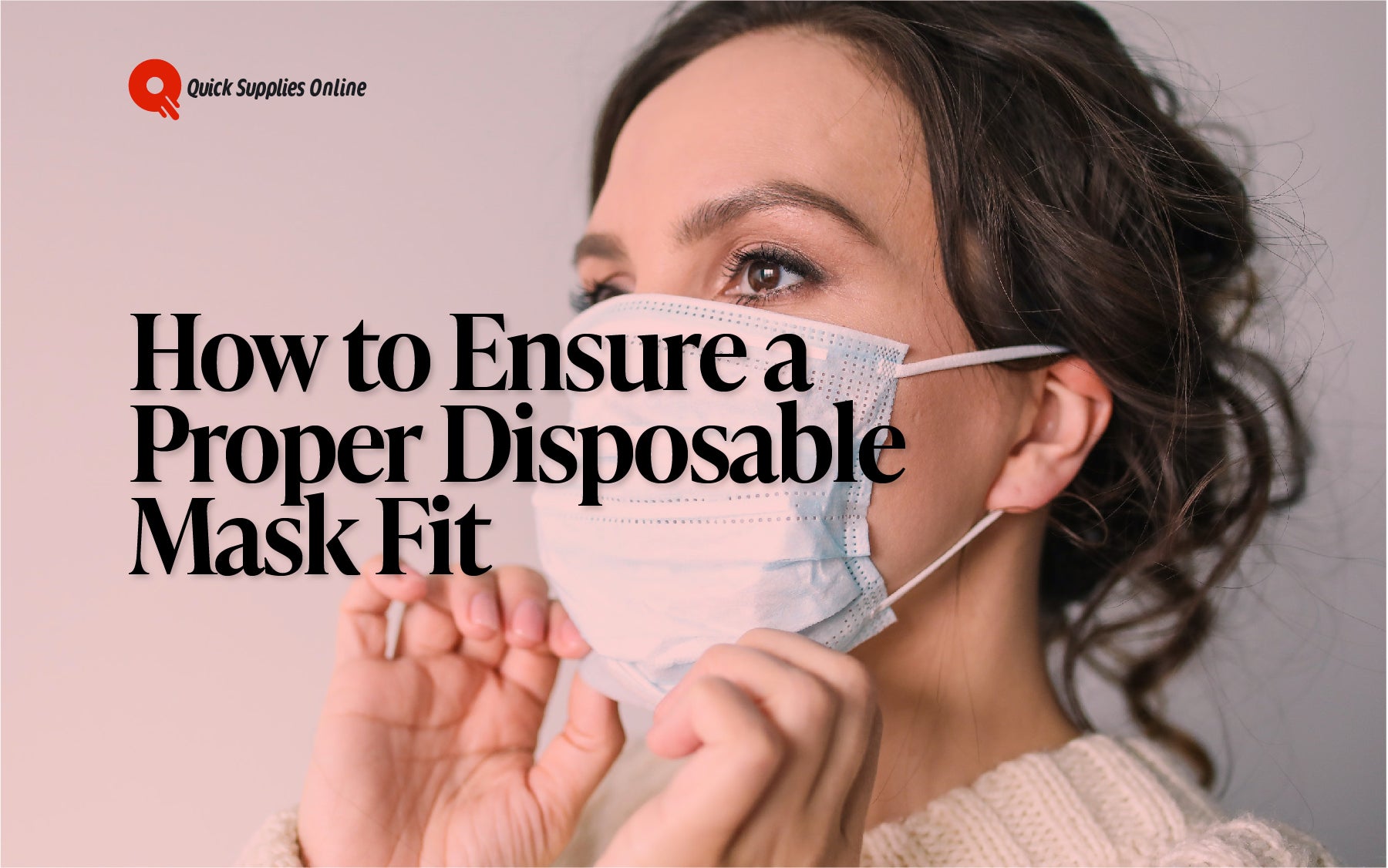 How to Ensure a Proper Disposable Mask Fit

Wearing a disposable mask is essential for the proper level of protection to slow the spread of viruses and illnesses. The mask must fit snugly against your face, covering both your nose and mouth. An adequate fit is the most critical aspect when choosing a disposable mask.
Why is The Proper Fit So Important?
A properly fitting type of mask will create a seal around your nose and mouth, stopping viruses and bacteria from entering or leaving your body. If the seal is not tight, outside air can enter through gaps along the sides of the mask and reduce its effectiveness. In addition, if you are wearing a disposable medical mask that does not fit properly, you may actually be spreading viruses and bacteria yourself, as small particles can escape through the gaps. A mask fit test is important, whether you are wearing a NIOSH-Approved Respirator or other types of masks.
Follow these steps to ensure a proper fit for your disposable mask.
1. Wash your hands thoroughly with soap and water for at least 20 seconds before handling your mask.
2. Verify that the side of the mask with a stiff, bendable edge is pointing upwards, and check that the colored side of the mask is facing outwards. If the mask has loops, hold the mask by the loops and verify that they are tucked towards the underside of the mask.
3. Place the mask over your face and make sure it covers your nose and mouth completely. Avoid touching the front of the mask while wearing it.
4. If using elastic ear loops: Pull ear loops behind ears and adjust so that the mask fits snugly but comfortably against your face without distorting or gaping. If you cannot obtain a good seal along the sides of your face, try readjusting or finding a different style of mask altogether.
5. If tying knots in elastic adjustable ear loops: Place one end of an ear loop over each ear, then tie a knot as close to each ear as possible while still maintaining comfort; leave long enough tails (approximately four inches) so you can tie another knot closer to the first one for extra security if needed later on; tuck tails towards the underside of face covering.
6. Mould or pinch masks with metal strip along the top edge so it fits snugly against the sides of your nose; press down lightly on any areas where air may leak through, such as along the bridge of your nose, around the cheekbones, or under your chin; make sure there's no gap between your face covering and skin all around edges
7. After adjusting your face covering, rewash your hands with soap and water for at least 20 seconds or use hand sanitizer if soap and water are unavailable.
8. When removing your face covering, avoid touching your eyes, nose, or mouth; remove by holding straps/loops/ties only – do not touch the front of the disposable mask.
9. Disposable masks should be thrown out after each use – do not reuse them.
How to Ensure a Safe Fit if You Have Facial Hair?
If you have facial hair that prevents a tight seal, you may want to trim your beard, so it is no longer than a quarter inch. Use a disposable mask with a moldable nose bridge or tie knots in the ear loops to cinch it down closer to your face. If you still cannot achieve a proper fit, consider trying a different style of mask.
It is important to note that even with a properly fitting mask, disposable masks are not foolproof – they should be used in conjunction with other precautions such as social distancing and frequent handwashing. Disposable masks work best when there is minimal contact between the mask and your skin – if you find that your mask is becoming damp or soiled, replace it with a fresh one.
Should You Skip Cloth Masks Altogether?
A cloth mask is not ideal because it does not fit as snugly to your face and is more likely to become damp from your breath because of the mask materials. However, if you cannot find a disposable mask or it is not feasible for you to purchase one, a cloth face mask is better than nothing. It's vital to have some sort of respiratory protection, but a disposable mask, such as a surgical, N95, K95, or another high-quality mask with an adequate seal would provide you with better protection. Make sure to never wear a cloth mask in a healthcare setting. All healthcare personnel should be wearing medical-grade or respirator fit masks.
Wearing a disposable face mask is one small way we can help protect ourselves and others from fast-spreading viruses and airborne particles. It is crucial that the masks fit snugly against our faces in order to be effective.
Not only should you follow the above steps but finding the proper disposable mask is vital for your protection. Check out our medical procedure masks, surgical masks, facepiece respirators, and non-medical disposable masks; we have something for everyone. Whether you're a healthcare provider, a worker in another industry, masks for kids, or just browsing for a protective mask, we've got you covered. Don't hesitate to reach out so we can help you choose from our high-quality masks and experience our quality medical supplies online selection.