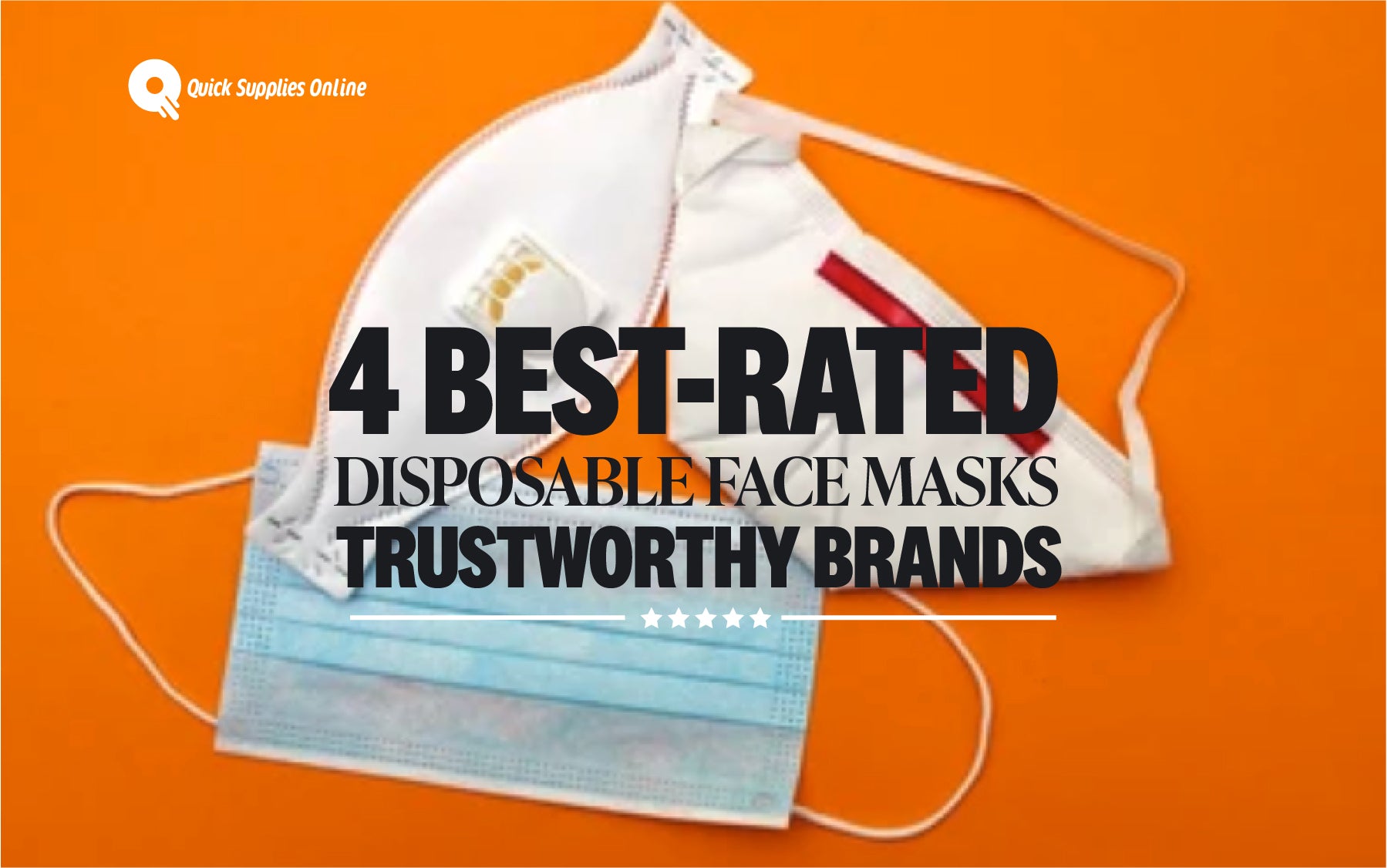 4 Best-Rated Disposable Face Masks: Trustworthy Brands

After the pandemic, it led people on the path to ensuring they are choosing the most quality-enriched disposable mask. We've all learned that not all masks are equal. Cloth masks don't do the trick; buying quality face masks is vital. It is now more important than ever to know the difference and find brands that create masks that offer the level of protection you need to stay safe.
But we don't expect you to do all the research to find which are a CDCTrusted source. We've done it for you.
Here are some of the most reliable disposable face mask brands you can count on.
3M: Disposable Respirators with Comfortable, Reputable Filters
When it comes to protecting your lungs from airborne contaminants, it's hard to compete with 3M's line of disposable NIOSH-approved respirators. With comfortable, reputable filters and a design that works with a wide range of face shapes and sizes, these respirators are the ideal choice for anyone looking to stay safe while working or playing outdoors. Whether you're a healthcare worker, construction worker, outdoor adventurer, gardener, or anything in between, these respirators have you covered. With advanced dual-filter technology that acts as both a prefilter and high-efficiency particulate filter (HEPF), these respirators filter out harmful airborne particles with ease.
BYD: 3-Ply Surgical Masks. Adjustable & Soft Comfortable Mask
If you're looking for a trusted brand of 3-ply surgical masks, look no further than BYD. These masks are comfortable, adjustable, and feature a soft nose bridge that won't irritate your skin. The nose wire and nose clip are adjustable and provides a secure fit. With a design that conforms to a wide range of face shapes and sizes, these masks are sure to provide a snug, comfortable fit with adjustable elastic ear loops. Additionally, the BYD masks feature an inner layer of melt-blown fabric that filters out harmful airborne particles.
Honeywell: Thorough Efficiency Against Contaminants
Honeywell is a trusted name when it comes to providing high-quality, efficient respirators. Their line of disposable masks is no exception. These masks feature an advanced filter media that provides thorough protection against contaminants. With a comfortable fit and a design that conforms to a variety of face shapes and sizes with adjustable ear loops. These masks are sure to provide you with the protection you need.
Halyard: High Particle Filtration Efficiency Breathable Masks
Halyard face masks are designed to provide high particle filtration efficiency (PFE), making them an ideal choice for use in healthcare settings. Halyard masks are available in a variety of styles, including earloop, tie-on, and N95 respirator. This brand is ideal for anyone who is looking for a reliable, high-quality face mask that will provide ample protection against harmful airborne particles.
When it comes to choosing a disposable mask, it's important to consider the brand, the fit, the level of filtration, and your personal needs. Quick Supplies Online is adamant about providing only the most trustworthy disposable masks - medical and non-medical - to ensure optimal protection. We have NIOSH-Approved N95 Masks, three-ply masks, and other disposable masks that offer the layers of protection you need.