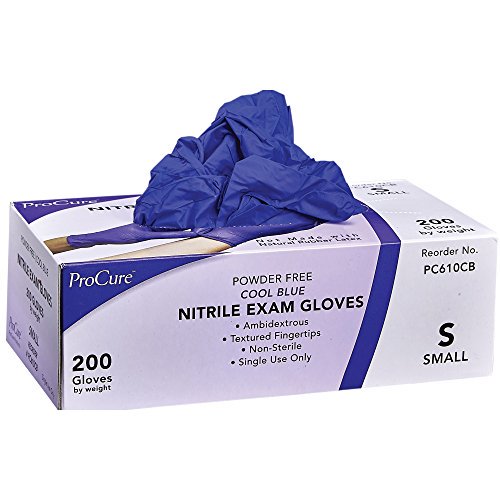 ProCure Cool Blue Disposable Nitrile Exam Gloves - Powder Free (Case)
Original price
$239.95
-
Original price
$239.95
About this item
SOLD BY THE CASE (10/200ct) They come in sizes from small through extra large, and are ambidextrous and super soft for the ultimate comfort

ALL SIZES available. (Choose the size you need)

Pull On closure

BEST PREMIUM GRADE GLOVES: Get high quality disposable gloves designed for professional use to keep your hands protected. With enhanced strength and tear resistance they offer unmatched reliability.

NO LATEX, NO POWDER - NO PROBLEMS: Avoid potential allergies and discomfort with our gloves – without the use of latex or powder, your body will be kept in optimal safety from potential allergens.

TEXTURED FINGERTIPS: When procedures get messy, holding on to equipment can be difficult – these food safe gloves come with textured fingertips providing maximum gripping power for wet and dry objects.

MEDICAL, FOOD & HOME USE: These exam gloves can be used in many settings, medical & dental offices, scientific labs & warehouses, restaurants & food prep, home cleaning, beauty salons & many more!