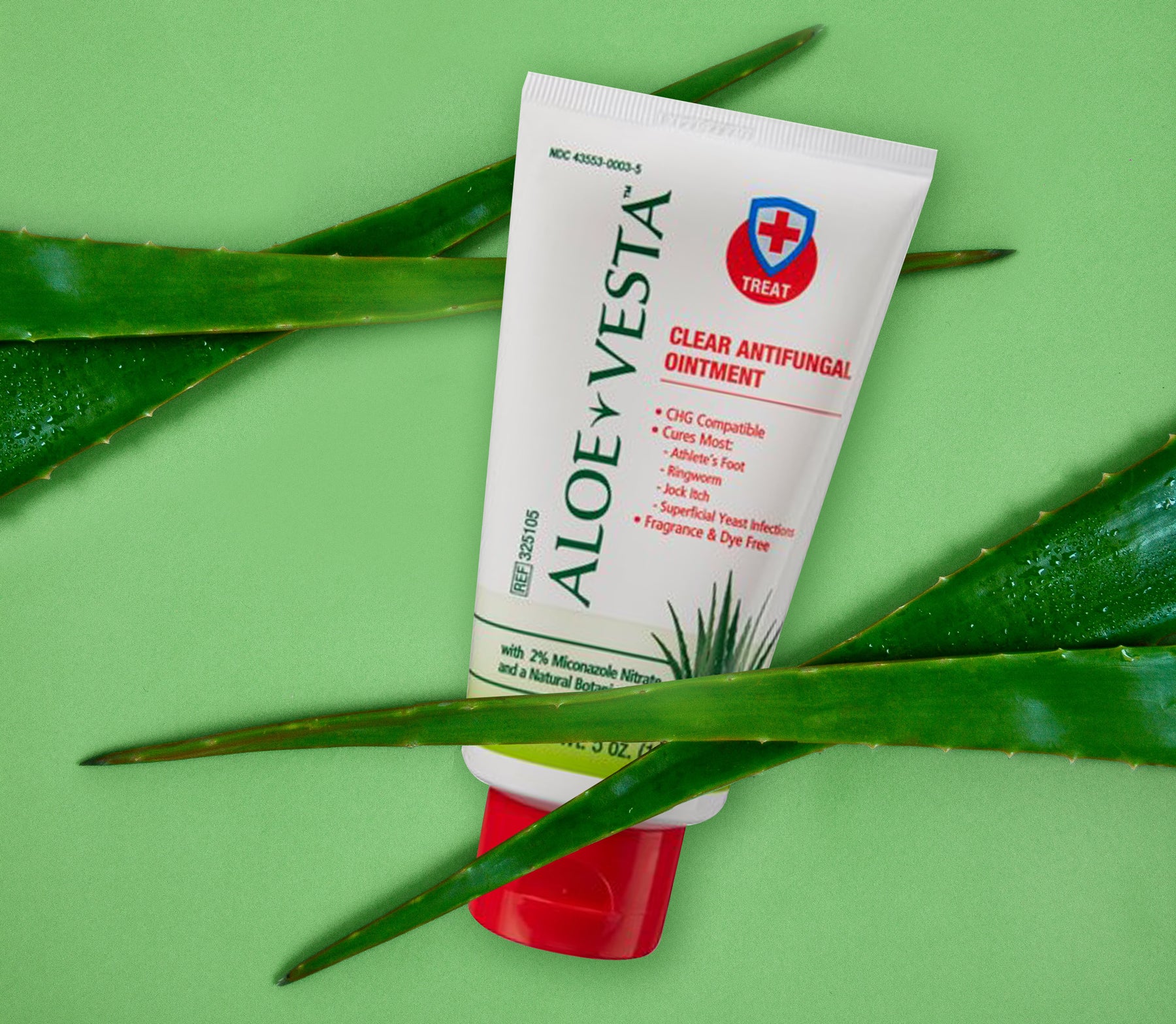 Why You Need Aloe Vesta Antifungal Ointment in Your Cabinet
 If you don't already have Aloe Vesta antifungal ointment in your medicine cabinet, it's beneficial to add it. This product can be useful for treating several different skin conditions, including fungal infections. Whether you use it for your own health & household or your medical office if you are a healthcare provider, it's one product you shouldn't be without.
Aloe Vesta is an over-the-counter ointment that contains both an antifungal agent and a soothing aloe vera gel. It can be used to treat various types of skin infections, including treatment of athlete's foot, jock itch, and ringworm.
The antifungal ingredient in Aloe Vesta is tolnaftate, which is also the active ingredient in other popular antifungal products like Miconazole Nitrate, Tinactin, and Desenex. Tolnaftate works by inhibiting the growth of fungi, bacteria, and yeast. It helps to tackle infection and fungal rash on skin but is a non-prescription medication so you can get to feeling better asap.
The aloe vera gel in Aloe Vesta acts as an effective skin protectant base to help soothe and heal the skin. It is also a natural moisturizer, which can be helpful for people who suffer from dry, cracked, or irritated skin.
Benefits of Aloe Vesta in Medical Facilities
Aloe Vesta ointment is commonly used in hospitals and other medical facilities. This is because it is an effective way to treat fungal infections without the need for prescription medications.
Aloe Vesta is also safe to use on children and infants. It can be helpful for treating diaper rash and other types of skin irritation.  If you are looking for an effective and safe way to treat a fungal infection, Aloe Vesta may be the right choice for you. 
List benefits of aloe vesta for medical facilities:
Aloe vesta can help to soothe and heal minor cuts, burns, and other skin irritations.
The anti-inflammatory properties can help to reduce swelling and redness.
Can also help to speed up the healing process of wounds.
The antimicrobial properties can help to prevent infections.
Helps to moisturize the skin and keep it hydrated.
The cooling properties can help to provide relief from itchiness and pain.
Helps with fungal infections (ex. fungal jock itch, ringworm, and other skin rashes)
Are There Any Reactions You Should Know with Aloe Vesta Antifungal Ointment?
Aloe Vesta fungal infection treatment is pretty safe. However, if you have any allergic reaction to the ingredients, you should avoid it. Always check the ingredient list to prevent adverse effects. Double-check your medication for drug interactions, too, although it is rare.
If you experience any side effects, stop using the ointment right away. 
How to Use Aloe Vesta Antifungal Ointment
Clean and dry the affected area. Apply a thin layer of Aloe Vesta ointment to the affected skin 2-3 times a day. You should see results within 2-4 weeks. If there is no improvement after 4 weeks, consult your doctor.
Where to Purchase Aloe Vesta Antifungal Cream
You can purchase Aloe Vesta Antifungal ointment through our website. Whether you have infection on skin, you want to stock up for your patients if you're a healthcare provider, Aloe Vesta's innovative products like antifungal cream can be used for rashes and other skin conditions. If you have any questions before stocking up on this product, we are happy to help. Just give us a call at (251) 643-2323.